About the Artist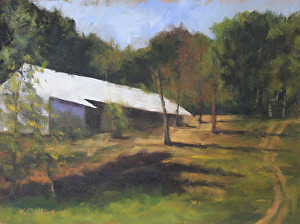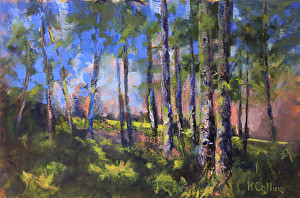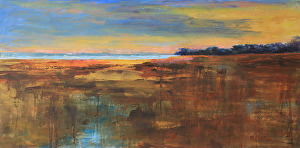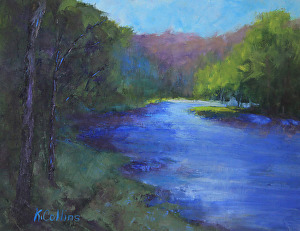 Painting with oil has become a passion for this North Carolina artist. Since the beginning of her art career, she has been guided by the widely-respected Andy Braitman and more recently has been studying in a series of master classes with the immensely-talented Curt Butler of Butler Studio. In 2014, she completed a four-month artist-in-residency program at Butler Studio where she focused on creating dramatic light and shadow effects in her landscapes. She continues to expand her artistic knowledge by studying in workshops with numerous nationally known artists.
Since late 2005, Kathy has been participating in a collaborative effort displaying her artwork with other artists at Barringtons Restaurant in Charlotte. She is an active member of the Guild of Charlotte Artists, having served on the Board for several years, is a member of the Gaston County Art Guild and also the Southern Arts Society. She is also a very active participant in a local weekly plein-air group. Since 2006, she has been represented by Providence Gallery in the heart of Myers Park in Charlotte, North Carolina.
She continues to draw inspiration from her travels to such places as the south of France, California, New England, Canada, Yellowstone National Park, Jackson Hole, Wyoming, and the Grand Teton mountains as well as from her beloved North Carolina.
Exhibitions and Awards:
2014 "String Lake" Honorable Mention, Winter Show-Guild of Charlotte Artists, Charlotte NC
2013 "Back of the Barn" Randy Higbee 6"x6" annual juried exhibition, Costa Mesa CA
2013 "Backside Barn" Carolinas Got Art! Salon des Refuses juried exhibition for NC and SC artists, Charlotte NC
2012 "The Bings" and "Peachy Keen" Randy Higbee 6"x6" annual juried exhibition, Costa Mesa CA
2012 "Morning Light" Honorable Mention, Southern Arts Society, Kings Mountain NC
2012 "Bobbing Along" 3rd place, Spring Show-Guild of Charlotte Artists, Charlotte NC
2011 "White Orchids" 3rd place, Matthews Alive Art Show, Matthews NC
2010 "French Meadow" Carolinas Got Art! Salon des Refuses juried exhibition for NC and SC artists, Charlotte NC
2009 "Last Trace of Snow" Carolinas Got Art! juried exhibition for NC and SC artists
Associations:
Women Painters of the Southeast (WPSE), associate juried member
Guild of Charlotte Artists
Gaston County Art Guild
Southern Arts Society (SASI)
Matthews Art Guild Plein Air Buds
Blue Ridge Mountain Arts Association